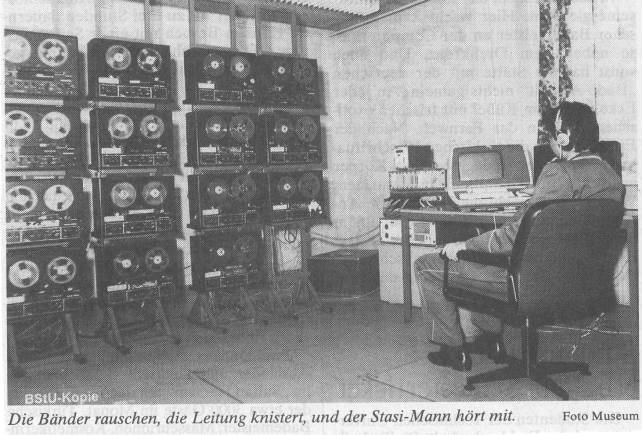 "The tapes are running, the connections crackling, and the Stasi man listens in"
Courtesy of Mr
Eugenides




Ministers are considering spending up to £12 billion on a database to monitor and store the internet browsing habits, e-mail and telephone records of everyone in Britain.GCHQ, the government's eavesdropping centre, has already been given up to £1 billion to finance the first stage of the project.




Hundreds of clandestine probes will be installed to monitor customers live on two of the country's biggest internet and mobile phone providers - thought to be BT and Vodafone. BT has nearly 5m internet customers. [...]




Further details of the new plan will be unveiled next month in the Queen's speech.




The Home Office stressed no formal decision had been taken but sources said officials had made clear that ministers had agreed "in principle" to the programme.
I may now have to go and lie down
Update: I've had a lie down and now I am angry. We spent trillions fighting the Soviet Bloc, people died. And now OUR masters use exactly the same methods as "the evil empire" did. What is the fucking point of pretending we live in a democracy any more?