I like to keep fit. Walking is good.
This year, I have decided that a brisk stroll is in order.
On November 5th 2008 at midday, I shall walk from Trafalgar Square to Parliament Square and then back to Trafalgar Square. 30 minutes of exercise is good for me, so the doctor tells me.
If you would care to join me on my ramble, please feel free to do so. You will be able to recognise me as I shall be dressed like this.

UPDATE: CARNIVAL STORE STILL HAS STOCK AND CAN POST TODAY 31/10/08


If you too would like to dress the same as me, you can buy your rambling outfit on Ebay. V for Vendetta outfits are going to be this year's thing, I can feel it.
Wednesday November 5th, Midday, Trafalgar Square. Packed lunch optional. Bring a friend.
If there are any legal experts out there who know of any reason why I should not be allowed to take 30 minutes exercise dressed as I please, feel free to let me know. Remember, this is not a protest, this is not a march, this is not a gathering - all of which are now illegal and you can be sure Mr Creedy WILL extract your DNA if you give him the chance. It is a merely a relaxing stroll in Autumn sunshine. No placards, no protest, no chanting. Got that? Good
HSE/ Risk Assessment: London, as you will know is a very dangerous place. Should you choose to ramble there, it might be wise just to bring a little cash for a refreshing pint afterwards and no ID or anything else that a "thief" might be interested in. Like a mobile phone, registered Oyster card or your driving licence. Place them somewhere safe and enjoy the fresh air, completely anonymously. Oh, and should anyone in "authority" ask me to remove my mask, I shall politely remind them that I am a female Muslim.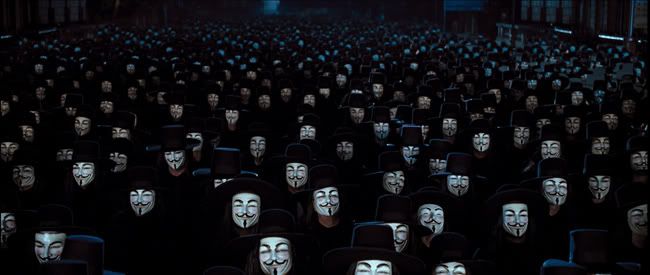 "There is something terribly wrong with this country isn't there?"
"If you see what I see, if you feel as I feel and if you would seek as I seek then I ask you to stand beside me and together we shall give them a 5th of November that shall never, ever be forgot."


UPDATE: V for Vendetta costumes are becoming scarce. Get yours now.
Also, for those who fear the fingermen, know your rights .


For those who have no idea what this is about, please view this short speech.